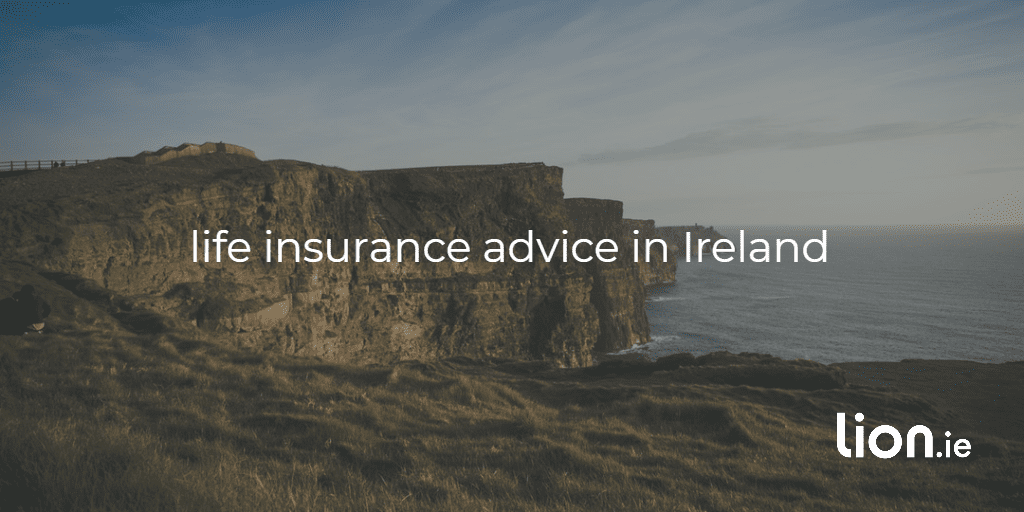 You'd love to get your your financial house in order (pension, savings, life insurance, income protection) but you put it off, not because it's especially hard, but because it's…
a) Boring?
b) Tedious?
c) Morbid AF
All of the above.
Well, I'm here to tell you it doesn't have to be…if you use us.

But, you have other options…let's look at what's on offer when you need advice on life cover.
Where to go for Life Insurance advice in Ireland
Fortunately, you have a lot of choice when it comes to buying life insurance in Ireland. You can use a friendly independent life insurance advisor (ahem), a tied agent (someone who works with one insurer only) or you can buy it direct from the life insurance provider (like an Aviva or Zurich Life)
What do you get from an independent life insurance broker?
Choice of insurer
Helpful advice
Great value
Personal service
1. Choice
There are now 6 major life insurance companies offering life assurance in Ireland:
Aviva
Friends First
Irish Life
New Ireland
Royal Lonson
Zurich Life.
Each insurer has it's advantages and disadvantages so you should make sure the broker deals with all 6 and can advise on the benefits of one over the other. If you have a feeling she is pushing one company over another, ask why.
The best life insurance brokers will ask you lots of questions so they can recommend the insurer that offers the benefits suit you based on your personal financial situation.
Life insurance is not one size fits all.
2. Advice
Impartial – it's a nice word and one bandied about in the financial services industry. But are advisors truly impartial or do they just recommend the insurer who pays the highest commission?
Our quote system shows quotes from all 6 insurers. You choose the insurer, so it takes the decision out of our hands. Of course, we can advise you who we think is best, in our best Our Graham voice:
"Well, will you pick insurer one, she's hot and spicy but promises not to give you heartburn. Or will you pick insurer number two who likes a bit of meat, maybe you should "take a butchers"! Or will you pick insurer three who wants to get saucy with you but also has a strange aversion to chickens. The choice… is yours!"
We won't force you on a date with Mr Bean…no matter how much he pays us.
Here's where we placed our business over the last 18 months.
Zurich 41%
Aviva 27%
Friends First 18%
Royal London 6%
New Ireland 6%
Irish Life 1%
3. Value
I've written about value before.

Cheapest is never best when it comes to protecting your loved ones. If you're just looking for cheap then you really should ask yourself why?
Would you buy  the cheapest shoes, cheapest wine, cheapest car, cheapest phone?
Or do you look  for the best long term value.
Like everything else, the phrase "false economy" applies to life insurance Ireland.
You buy life insurance to protect the people you love the most. Don't be an Ebeneezer. The policy you are researching at the moment may be the the most valuable gift you ever buy them. It could be the difference between them having a comfortable life as you have planned or a life scrimping and saving wondering why mum or dad didn't buy more cover.
4. Service
A life insurance broker worth their salt wants a customer for life…not just a policy holder for a year or two so they'll be in touch on an annual basis to make sure your protection is still fit for purpose.
Life insurance is for life.
As your circumstances change so should your cover especially when you experience a life changing event such as marriage, moving house or the birth of a child.
That's when you'll see a new benefit in having a trusted advisor – familiarity.You're comfortable with your advisor, he knows your background (and you medical history)
Why use a tied agent instead of a broker
Tied agent/direct sellers are limited to selling products from one insurance company. Why use one?
I'm struggling for reasons, sometimes they"ll call to you house and sell to you in your kitchen.
If this is your idea of convenience then a tied agent is for you.
Otherwise – avoid.
Why buy direct from the life insurance company?
If you're a sucker for a schnazzy marketing campaign then going direct is for you.
If you want to get ripped off, then going direct is for you (prices are higher than through a broker – check for yourself)
If you don't like choice when buying life insurance, then…well you get the picture.
You have been warned.
Life Insurance in Ireland – Conclusion
Use an independent broker but shop around until you find one you're comfortable with. Send her an email – see how quickly she responds. Call him – does he pick up immediately or do you get voicemail, or even worse the dreaded press 1 for this, press 2 for that?
We work hard to wow our customers with award winning service (Best Customer Service Award Winner in 206 and 2017 but we don't like to brag…much)
We'd love the chance to WOW you too….get in touch using the form below and I'll be right back.
Nick McGowan
lion.ie | making life insurance easier
Blog
Life Insurance
Give us a
quick outline
of how we can help and we'll be right back to you.