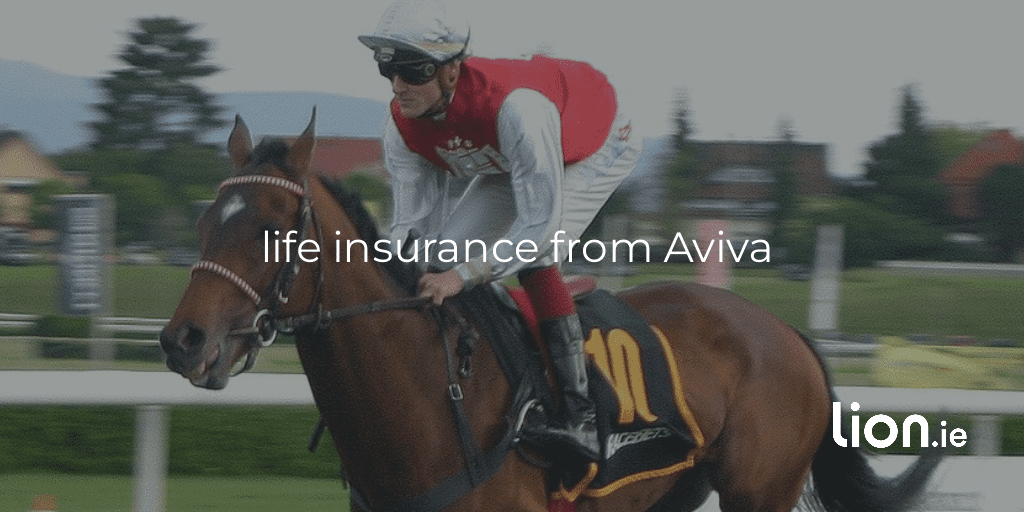 You know what life insurance is.
You get why it is important, but which insurer will you throw your cash at like an Irish man let loose in Cheltenham?
Choosing a life insurance provider is a big deal, and none of us wants to screw up and pick an insurer that doesn't have our best interests at heart.
I think that's why many of us avoid the life insurance game altogether. It's easier to bury our heads in the sand, right?
Wrong!
It's time to shake off any reservations you may have and back that horse (on the nose, none of those each way shenanigans) to finally give yourself and your fam some extra protection.
Aviva Life Insurance Review
I've been collecting precious life insurance provider reviews like Gollum, but only to make your life easier.
No one wants to have to trawl the internet to find the same boring stuff that leaves you more confused than before.
That's not my game.
I want to break it down and show you what these providers offer.
I've already covered Irish Life's mortgage protection and Income Protection from the Swiss lads (Zurich if you weren't sure) if you fancy a little nosey, but it's Aviva's turn in the hot seat now.
So as not to bore you to death – at least not before you've even signed on the life insurance dotted line, I'm just going to let you in on a couple of nuggets exclusive to Aviva.
Offerings that set them apart from the rest of the class.
Let's get to it, folks, no time for dilly-dallying.
Free Tickets to International Home Games at the Aviva with Every Policy

Ok, back in the room.
What is Aviva's Family Care?
Now before you get your hopes up, no they aren't offering to take your sproglets every weekend so you can go on the beer, as nice as that would be but their type of Family Care is something you should know more about.
Why!? I hear you cry.
Look, the last two years have been a whole bucket of crazy shit not one of us was equipped to handle. Some of us got through it with a few minor bumps and scratches, others felt the full force of the pressure the pandemic created like an elephant tap dancing on their chest.
Simply put, our mental health right now, as a collective, isn't great.
Aviva's Family Care is a service that is available to whoever signs up for life insurance with them, their spouse, and their children aged 18 and below (or up to 23 if they're slogging it in full-time education).
You all get access to counselling and psychotherapy services – something we could all do with a little of right now.
A little side note, their mental health services are actually available to anyone who holds a protection policy with Aviva (so that means income protection, mortgage protection, serious illness cover or life insurance)
So, what kind of things does the Aviva Mental Health Care Team deal with?
If you or your family are struggling with the loss of a loved one, Aviva's got your back.
Are you feeling overwhelmed, stressed or anxious? Yup, you guessed it, they've got you here too.
How about feeling lonely depressed, or just down with the blues? Again, Aviva can help.
They can even give you a hand if you need help managing the emotional impact of life events and aid you in developing coping and behavioural skills that can keep you floating above water instead of sinking.
But how on earth do they do this? For a life insurance provider, it's no mean feat.
As a life insurance customer of Aviva, you'll have access to a boatload of specialised forms of therapy, such as counselling and even cognitive behavioural therapy.
What a bloody bonus that is.
Want another sneaky bonus? Well, they have a confidential helpline that is open 7 days a week, day and night, that real-life psychologists support.
The Mental Health service is delivered by Clinical, Counselling and Health Psychologists registered with the Irish Psychological Society.
I know, as a nation, we're resistant to the new 'therapy way of life', but let's be honest, at this stage, we could all do with a little help and support and, I'm going to say it, there's no shame in asking for a hand.
So, what's next? Surely they can't beat that kind of deal?
How about this….
How do you get access to Best Doctors?
Best Doctors Second Medical Opinion is a mint service. I have to hold my hands up to Aviva, they have really got to the roots of what their customers actually want from their policies.
So, what does Best Doctors do exactly?
Double-check any diagnosis or treatments you may have been prescribed
Investigate alternative treatments that may suit your circumstances better
A review of your options if your symptoms haven't improved
But who can use this service?
Well, this is where it gets really good.
Just like the Family Care service, you, your spouse, and any children under 18 (23 for the book worms) can access Best Doctors.
Wait, it gets even better.
Family Care includes your parents and your spouse's parents. If they have health issues that you are worried about this very second, you can refer them to Best Doctors for a second opinion on their treatment (once you take out a policy, of course)
And just like family care, the Medical Care Centre helpline is open 7 days a week, 24 hours a day because medical emergencies have no idea that we may want to sleep after 9 pm.
So, if you are a family person this is what may truly wing Aviva into your good graces.
On top of all their regular, bog-standard life insurance perks, such as:
Flexible protection cover
Specified illness cover
Children's specified illness cover
They're also here to help boost your mental health and help you to get the best medical care and treatment you deserve.
Mighty, wha!
Over to you
Aviva's looking like a serious contender in your eyes right now, I can feel it emanating through the screen.
And yes, all the regular stuff comes with Aviva Life Insurance too:
Dual Life Cover
Conversion Option
Free Children's Cover
So, mull it over, have a good think but if you have any health issues that you feel you could do with a second opinion on, then Avia should be top of your list.
Still not sure, or want to find out if everything else will work for you.
No problemo. Fill in my little questionnaire, and I'll get back to you with a recommendation, and we can figure out whether Aviva's life insurance policy is the nag you've been waiting to back.
Nick