In our delightful capitalist society, the magic money machine of life is the one thing you depend on most.
And sure, you can't buy happiness, but money definitely helps.
It's why your income is so important – and why we spend all that time going to school and then potentially onto college or at work.
Work hard.
Make money.
Live well.
But what happens if you can't work for a long time?
Maybe you're in a car accident or experience depression or fall ill.
That magic money machine is about to stop chugging out the good stuff.
It's why Income Protection is so important. It's a type of insurance that pays you up to 75 per cent of your salary if you can't work long-term FOR ANY REASON.
But if you're someone who works a job that insurers categorise as risky (specifically Class 3 and 4 – see below), you might be facing massive, stonking premiums.
Which might lead you to believe insuring your income is out of reach.
This is where Wage Protector can help.
What counts as Class 3 and 4 in income protection?
A quick introduction: all the insurers use underwriting to set the cost of your premiums – which is how much you'll pay, monthly, to be insured.
Underwriting is a complex mix of maths, science, and risk analysis. The underwriters assess your risk based on family history, your current health and the job you do. If the underwriters believe there is a bigger chance of a claim on your policy than the general population, well, you'll pay more. 
When it comes to Income Protection, the most important thing here is the type of job you do. If, for example, you work in bomb disposal, it's safe to assume the insurers won't be in a rush to cover you. On the other end of the scale, you might be surprised to hear that if you're a carpenter or a nurse, you could be facing higher premiums than expected.
The classes rank from 1 to 4. The insurers rank occupations based on their history of claims and the risk of injury in that occupation.
Class 1 is your standard desk jockey. Me, for example.
Class 2 is an occupation that involves some light manual labour – a dentist fits in here, as does a sales assistant.
Class 3, then, involves non-manual and manual occupations. Nurses, midwives, mechanics – you get the gist.
Class 4 is manual labourers. This includes jobs like general operatives, builders, and tradesmen.
If you fall into Class 3 and Class 4, expect your premiums to be more expensive. However, Wage Protector is here to make things a bit easier on your póca.
Introducing Wage Protector
Wage Protector is pretty similar to Income Protection. In fact, when you hear the definition, it'd be fair if you think that they are the same thing.
Wage Protector provides you with a replacement income of up to 75 per cent of your salary if you can't work due to any illness, injury or disability.
The big difference will be in price and the duration of the payout (see below).
Income Protection is pricey for Class 3 and 4 workers. Wage Protector is intended to be a cheaper equivalent. Your policy will protect you in two ways:
Months 1 to 24 out of work:

You'll be paid a replacement income for 24 months. (Income Protection covers you until you retire or go back to work.) 

After 24 months:

Continuing cover if you can't go back to work after the 24 months. To qualify for the continuing payment, you have to pass a set of physical and mental ability tests.
Here's a handy chart illustrating the differences between Income Protection and Wage Protector
One thing worth noting is that the deferral period is slightly different. This is the amount of time you have to be off work before getting the replacement income.
In the case of traditional Income Protection, it's 4, 8, 13, 26, or 52 weeks. For Wage Protector, 52 weeks isn't an option.
You can claim tax relief on both Income Protection and Wage Protector (20 or 40 per cent), which means your premiums may well be less than you expect.
How much does Wage Protector Cost?
Compared to income protection, it's a LOT less.
Let's take two examples, a nurse and a carpenter.
Example 1: Nurse
Quote Type: Full Income Protection
First Person: Non-Smoker, born on 01/04/1985
Cover Amount: €1,516 per month until age 65.
Occupation Class: Nurse (Hospital) (Class 3)
Deferred Period: 26 weeks
Monthly premium: €34.81
Wage protector is half the price at €16.81 per month
Example 2: Carpenter
Quote Type: Income Protection
First Person: Non-Smoker, born on 01/04/1981
Cover Amount: €23,400 per year until age 65.
Occupation Class: Carpenter (Class 4)
Deferred Period: 13 weeks
Monthly premium: €146.64
Wage protector is less than half the price at €60.45 per month
Do you get anything else with Wage Protector?
A puppy!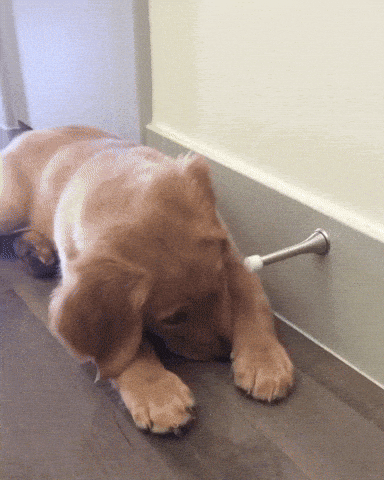 There is no puppy.
If you want a puppy, you should get one. But remember that, unlike children, a puppy isn't just for Christmas.
With Aviva, if you go for Income Protection or Wage Protector, you automatically get a bunch of solidly sound extras. Forthwith (imagine me saying that as I doff an elaborate top hat):
Best Doctors Second Medical Opinion:

 You can get a detailed second opinion on any treatment or diagnosis you might have so that you know you're on the right path with your health.

Aviva Family Care Benefit:

 A counselling and support service for you and your family, if you need it.

Hospital Cash Benefit.

 Literally, an income if you're in the hospital for more than a week during the deferred period (so some cover before your actual cover kicks in).

Waiver of Premium.

 You don't have to pay for cover while Aviva pays you your replacement income.

Proportionate Benefit. 

If you go back to work and your earnings are less than they used to be, you may be eligible to receive a benefit to help make up the difference.

Relapsed Benefit.

 Within six months of getting back to work, if you have to take time off for the same reason as before, the insurer will restart your claim. You don't have to serve another deferral period.
Over to you…
Fear not, gentle reader.
If you've applied for Income Protection before and didn't go with it because it was too expensive, it's worth taking Wage Protector a spin.
You can't use an online quotey-majig to get your quote, but I can get you one – it's what I was born for – if you fill in this short questionnaire or if you give me a bell on the most useful relic to the past, the good old-fashioned telephone.
I'm on 057 93 20836.