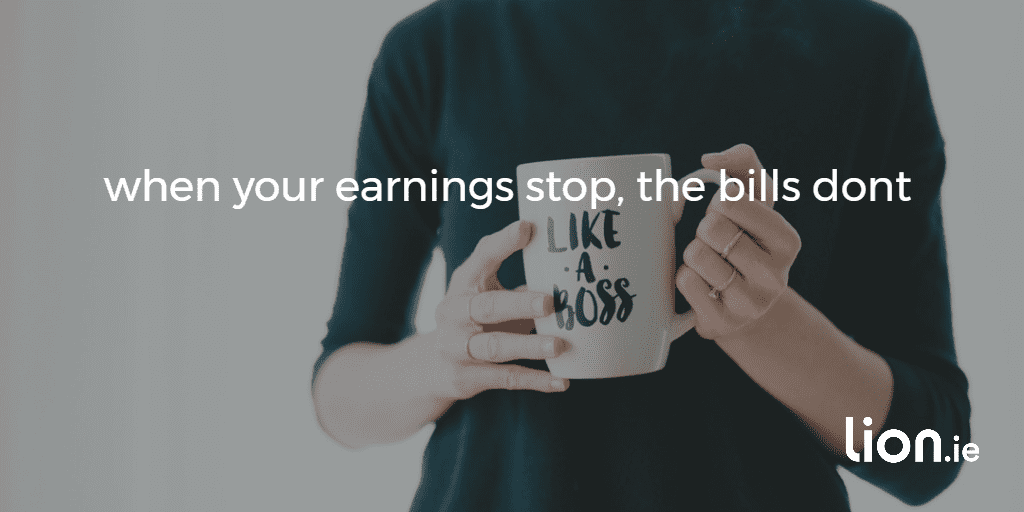 You and I have something in common.
Like me, you're self employed.
Like me, you take all the risk.
But, like me, if you get sick and can't work..
YOU'RE ON YOUR OWN SUNSHINE!
An employ'eeeeee (the jammy fecker) can rely on the government for a helping hand in the form of a disability allowance.
It's only €193 per week but still it's better than a slap in the face with a wet fish.
But me and you get nothing, zilch, zero if we can't work.
That's why income protection for us self employed is essential.
Essential, as in if you don't have it you're
Income protection for the self employed
The number 1 policy you need
Pays out if you're sick, injured or disabled.
Insures up to 75% of your pre tax income.
Designed to cover your mortgage, bills and food.
Do I need earnings insurance?
Illness or injury could stop the earnings, but it won't stop the bills.
You are the money-making machine.
If you break down, the money stops.
Remember you're not entitled to disability allowance.
If you can't work, you will suffer a 100% income drop.
What's covered by self employed income protection?
Income protection insurance pays you a monthly income if you can't work (and aren't taking earnings from your company) due to any illness
A N Y; THREE small BUT IMPORTANT LETTERS
Income protection for the self-employed will payout for any illness, injury or disability that stops you working.
How does it work?
Sinead is a self-employed IT consultant.
In the last tax year she earned a gross salary of €100,000 (P60) earnings)
After reviewing her monthly expenditure she decides to insure 75% of her annual earnings, totalling €75,000 or €6,250 per month.
Two years after taking out her policy Sinead suffers a type of cancer that prevents her from working for 4 years whilst undergoing treatment.
At the start of the plan Sinead selected a deferred period of 6 months and received her first payment from the insurer of €6,250 at the start of the 7th month.
Over the 4 years, Sinead received 42 monthly payments of €6,250, totalling €262,500, enabling her to meet her financial obligations whilst out of work.
How much can I insure?
Using income protection for the self-employed, you can insure up to 75% of your gross (pre-tax) earnings.
But you don't have to insure the whole 75%.
You should look at your expenses first (mortgage, bills, food) to determine how much cover you need.
Do I have to prove my income?
Not at application stage but if you make a claim, the insurer will look for evidence that your income at that time supports your claim.
So, if your earnings fall it's important to contact the insurer and reduce your cover because the insurer will never payout more than your earnings at the date of your claim.
It's important to note that some insurers will average your income over the previous three years.
Others will only look back over the previous 12 month.
You should take this into account when choosing an insurer if your income isn't regular.
But I'm healthy, it'll never happen to me
One in three people in Ireland will develop cancer during their lifetime.
Source: Irish Cancer Society, Central statistics office June 2013
An estimated 30,000 people are living in the community with disabilities as a result of a stroke.
Michael, a recent claimant, thought it would never happen to him but "having the policy meant everything" when he found he needed it.
Here's a snippet from his story:
I'd been self employed for about twenty years and never really had a day's sick in my life. I felt in good health but developed what I thought was a groin strain from playing football and thought nothing of it. Being a typical male…I put off doing anything about it. I eventually went to a local physio who concurred with me but sent me for an x-ray when there was no improvement after six weeks. The x-ray showed up what doctors term a 'hotspot' on my pelvis (an area of increased density on an x-ray) and referred me to a GP. A further scan in St. James's hospital showed up a cancerous tumour in my pelvis. That was the start of three years off work while I received treatment. I underwent radiotherapy and chemotherapy.If you have cancer and you're in and out of hospital, the last thing you want to worry about is how am I going to pay the mortgage, the household bills? When you're not able to work, you feel threatened. Having an income protection policy kick in meant I could concentrate on getting better. Without all the added financial worries of not having an income.The application process was straight forward, the staff in the insurer were supportive at all times. I had a dedicated contact person who was great to deal with.  All I had to provide was a report from the consultant and the occasional update. I am such a fan of the product now I tell everyone who will listen not to hesitate in taking out this valuable cover. So my advice is don't hesitate. I thought it would never happen to me
Over to you…
If you're considering income protection for the self-employed, please get in touch.
I'm available for a chat at any time during business hours on 05793 20836….or hit the chat button down there somewhere.
If it's outside office hours, please complete the quick outline form below and I'll be right back.
Because we're independent, I can offer advice on policies from
Aviva
Friends First
Irish Life
New Ireland
Royal London
There are huge differences between them so please take some advice before you choose.
Shop around.
Get independent advice then make your decision.
Nick McGowan
lion.ie | making life insurance easier