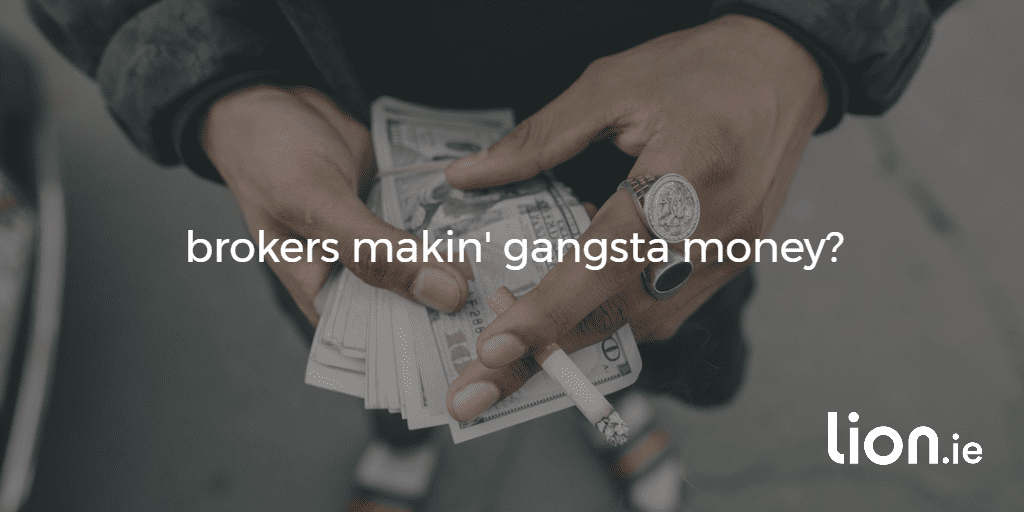 It's the question that might be rattling around your curious brain.
How much do life insurance brokers make on my policy?
Some people like to know how much commission the insurers pay us.
Others couldn't give a toss.
They're delighted with our service and understand we don't work for free; we've all got mortgages to pay, mouths to feed, yadda yadda.
But look, we've got nothing to hide, so here goes:
Our
commission

structure
Life insurance and mortgage protection
Aviva, Irish Life, New Ireland, Royal London and Zurich Life, the big five Irish insurance providers, pay us 100% of the first year's premiums and 10% for years 2 – 10.
They pay a bigger slice of commission in the first year as this is where the bulk of the work is done advising and arranging the policy.
The insurers pay a retainer from year two, so we're your first point of contact to provide a service if you ever have questions on your policy or need to amend it.
Income protection
Aviva, Irish Life, New Ireland and Royal London pay us 110 % of the first year's premiums and 10% for years 2 – 10.
By the way, that's our commission structure, I don't know how other brokers get paid.
Why is more commission paid in the first year?
Life insurance commissions are paid to us in the first year of the policy because it's in that time that most of the work is done to put it in force.
This means that although you may hold the policy for 20 or 30 years, most of the commission is paid in the first 12 months.
Over the life of a 20-year policy, we get paid around 6% of the total premiums that you pay into it.
The life insurance companies take the other 94%.
6% – that's less than a broker would make annually on your house insurance.
Hopefully, that puts things in perspective.
But…
If we switch you from one company to another every year, we'll get paid 100% all over again.
And if we switch you again the next year, we get paid again.
That's not how we do things here because it's not in your interests to switch insurer every year. You'll be a year older, so your premiums will be higher.
There are creative ways to fool someone into thinking they are getting a lower-priced policy but be wary of anyone trying to "shop around" your life insurance.
They might be in it for the big first-year commission payment.
I hope this explains how we earn a crust.
If you'd like to work with us and need some help figuring out what you need, please complete this questionnaire, and I'll be right back
Nick McGowan
lion.ie | making life insurance easier