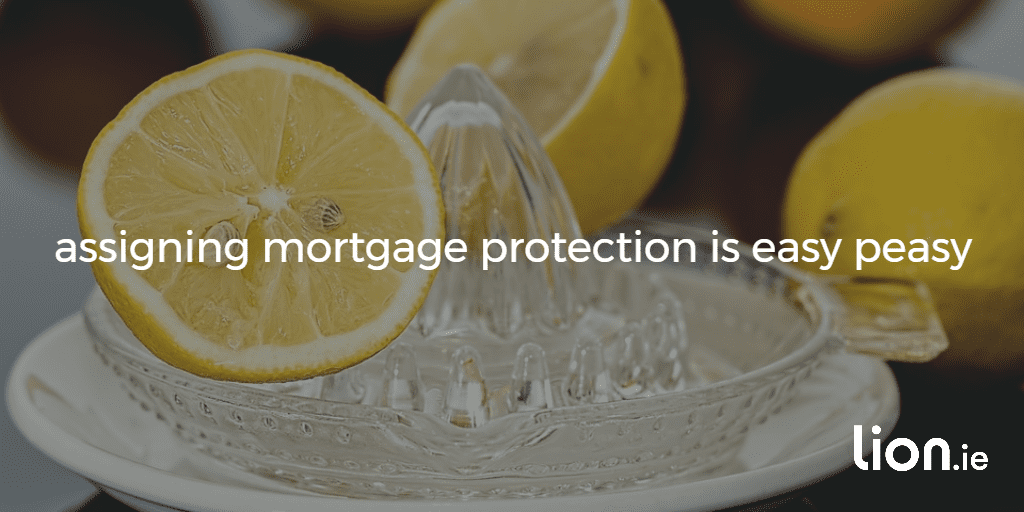 Let's get one thing straight.
Assigning your life insurance or mortgage protection policy to a bank is easy-peasy lemon squeezey.
Ignore what the bank says about how it will delay your mortgage or how they will look more favourably on your application if you buy their mortgage protection policy.
It's all a cod.
They are trying to scare you into buying their overpriced policy.
Tell them where to go.
Because you already know where you can get the best mortgage protection quotes.
How to assign a life insurance policy
When you assign a life insurance policy to a bank, you are giving the bank a gift.
You take out the policy, you pay the monthly premiums.
But after your insurer names your policy to the bank, the bank gets any payout (even the serious illness cover).
You might as well put a pretty little bow on the policy and S.W.A.L.K.
But look, you can't avoid assigning the policy so let's look at how you do it.
First off, you complete a deed of assignment
The deed of assignment is a legal document that the bank sends to your solicitor as part of the legal pack.
The deed is full of archaic legalese – don't bother reading it, you're not meant to understand it.
But you have to sign it.
It's a bit like Apple's terms and conditions, everyone ticks the box, nobody has a clue what they agreed to.
The bit you sign is called the Notice of Assignment.
Secondly, you send the notice of assignment to your bank.
The normal, helpful lenders will help you and send the notice of assignment to your insurer.
Ulster Bank won't do this for you, they make you do it for them.
So if you're with Ulster Bank, you'll have to send the notice of assignment to the insurer.
If I arrange your policy, I'll do all of this for you, so don't worry, I got this!
What happens when the insurer receives the notice of assignment?
The insurer will assign your policy to the bank so the bank becomes the owner of your policy and gets any payout.
Who notifies my bank that the policy has been assigned?
The insurer will send a confirmation of assignment letter to the bank stating:
Thank you for your recent Notice of Assignment in respect of the above numbered policy.
We have noted your interest and confirm that we hold no prior charge on this policy.
Once the bank has confirmation of assignment, they're happy to issue your mortgage cheque.
Is there a fee payable to assign a policy?
Nope.
Over to you…
I hope that clears up how to assign a life insurance policy to a bank.
But if you have any questions, please complete the short form below and I'll be right back or even better call me on 05793 20836.
Nick McGowan
lion.ie | making life insurance easier