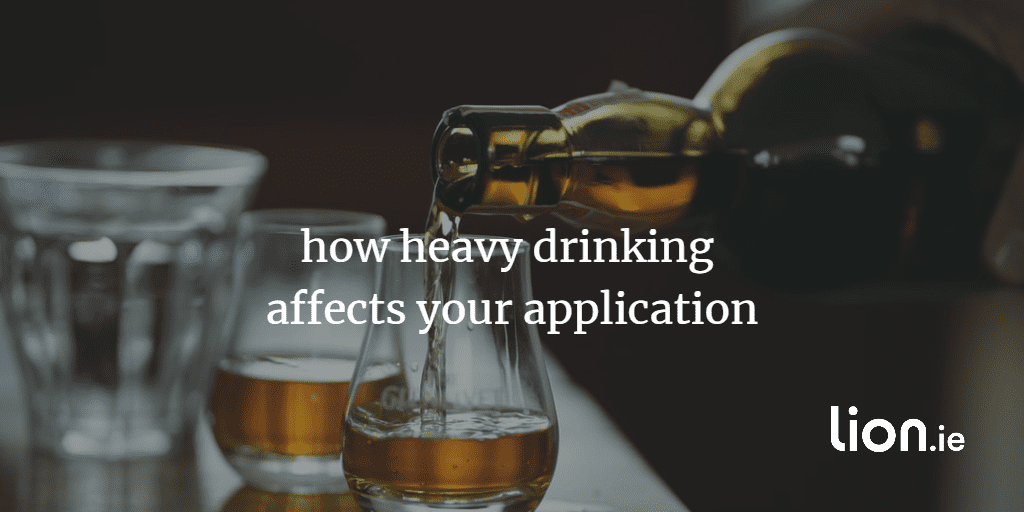 Complete this questionnaire and I'll check if cover is possible.
Hi, my boyfriend needs life insurance. He has a history of heavy drinking and is a recovering alcoholic since 2010. We were insured with a company pre alcoholism but stupidly I cancelled the policy. Now that I have had to declare his health when applying to a new insurer he is being declined. We just want to insure against the mortgage. Can you help us?
Life Insurance and Alcohol
Alcohol dependence is a chronic disease involving a craving for or physical dependence on alcohol which results in a person's inability to control drinking despite the consequences. Deprivation will generally result in withdrawal symptoms such as tremor, anxiety and delusions. Treatment of alcoholism is withdrawal and total abstinence, psychotherapy and adequate nutrition.
What is harmful drinking?
Definitions (source RGA – Global Reinsurer)
Heavy Drinking. More than 3 to 4 standard drinks (units) per day for men and 2 to 3 standard drinks (units) per day for women
Alcohol Abuse. A pattern of heavy alcohol intake with associated problems
Alcohol Dependence. A physical dependence which results in the inability to control drinking despite the consequences
Can an alcoholic get life insurance?
The simple answer is no – if they are still drinking.
Life insurance and alcohol is not a good mix.
If they haven't drunk in 2 years then there is a chance of getting life insurance.
But there will be a significant increase in the price of their life insurance plan (on average they'll pay three times the normal price).
What about excess alcohol consumption/abuse?
It depends on whether heavy drinking was in the past or recent.
If it was in the past, the underwriters will look for a detailed medical report before they make a decision.
Normal liver function tests are key to getting life insurance. If the person is drinking and damaging their liver, they won't get cover.
What if you were told to reduce your consumption and just drink on special occasions?
The insurers won't hold drinking sensibly against you provided:
you have not been diagnosed with alcoholism.
or told to totally abstain from alcohol.
How much will my life insurance cost?
If the alcohol abuse was recent i.e in the last 3 years then you could be looking at premiums of 4 times the normal price.
But, if it's been 5 years since there was an episode of alcohol abuse you may get the normal price.
It all comes down to the medical report.
Can you get life insurance if you have cirrhosis of the liver?
Most insurers would decline for all types of insurance but we have one insurer who can offer cover after 5 years abstinence but they will load your premium significantly.
Can you get serious illness cover if you suffer from alcohol dependence?
Serious illness cover is possible but the insurer prefers you to have abstained for over three years before they offer cover.
What about income protection?
Unfortunately, income protection isn't a possibility.
Over to you…
Would you like to discuss your own situation regarding life insurance and alcohol in confidence?
Maybe you're trying to find out more information on behalf of someone else?
Feel free to give me a call on in complete confidence on 05793 20836 or complete this short alcohol questionnaire and I'll discuss your case anonymously with my panel of underwriters and get back to you.
Some insurers are more sympathetic than others for life insurance and alcohol problems.  I've helped many clients in a similar situation so I'll be able to tell you pretty quickly whether cover is possible and what your final premium is likely to be. 
Chat soon.