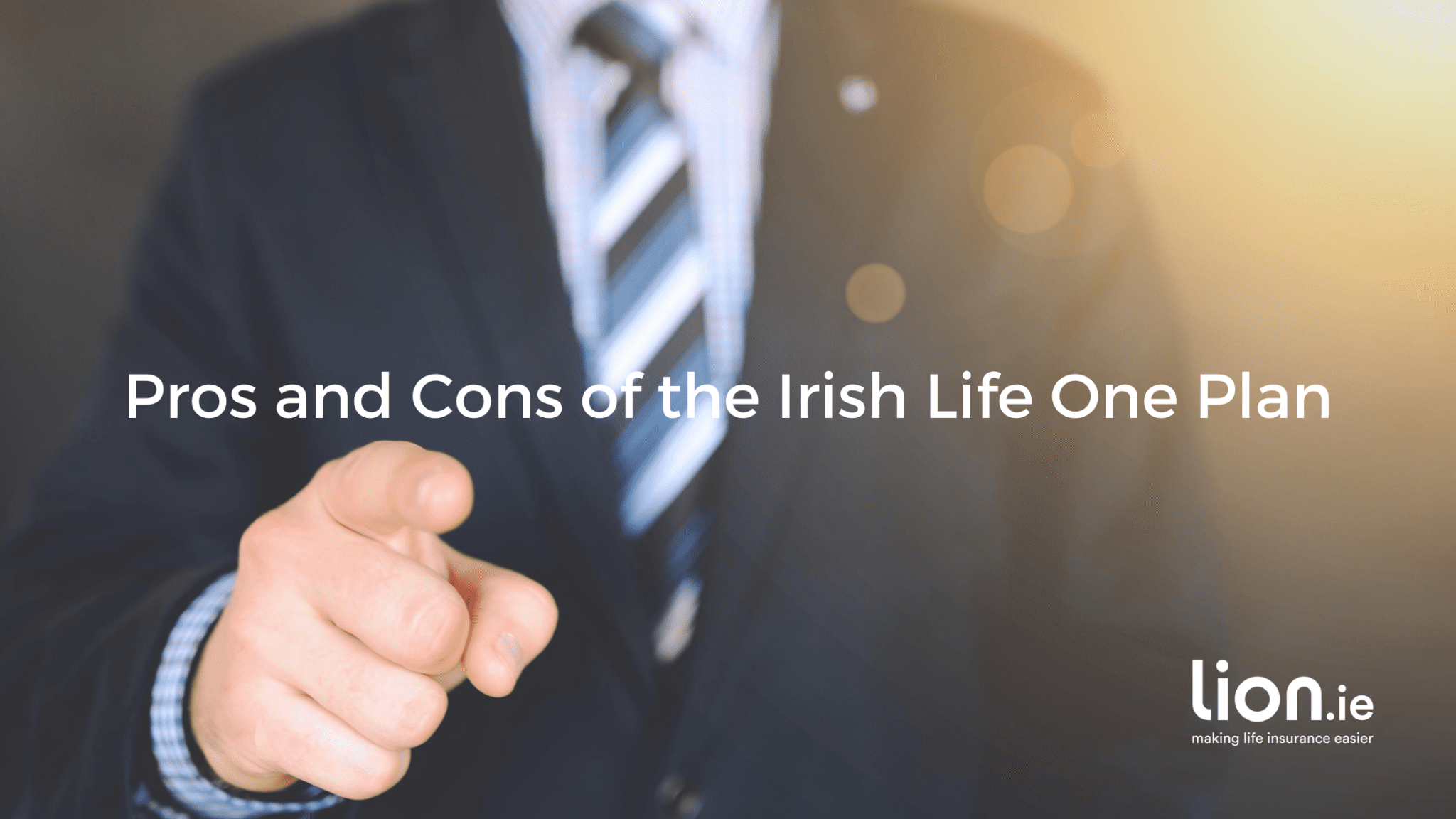 Have you had the talk?
No, not the one about the birds and the bees.
The talk….with the bank.
The talk…where they corner you in a dimly lit room and put the squeeze on until you say "no more" and sign up for whatever policy they're hustling.
If you haven't had the talk yet, count yourself lucky you found this page.
If you have survived the talk without signing up, then you, my friend, are a legend!
But, don't worry if you did crumble – you have a cooling-off period of 30 days so you can cancel and get your money back.
And even after 30 days, you can cancel at any time and switch to a better policy.
What is the One Plan from Irish Life?
Before we dive in, it's disclaimer time:
We cannot sell you the One Plan from Irish Life. It's strictly available to
preferred brokers of Irish Life (secret handshakes, blood oaths and countless other sorts of weirdness we're just not that into).
banks that sell Irish Life policies.
So which banks would that be, you may ask, well c'mere till I tell you.
Take a look at the results when you Google "irish life one plan protection".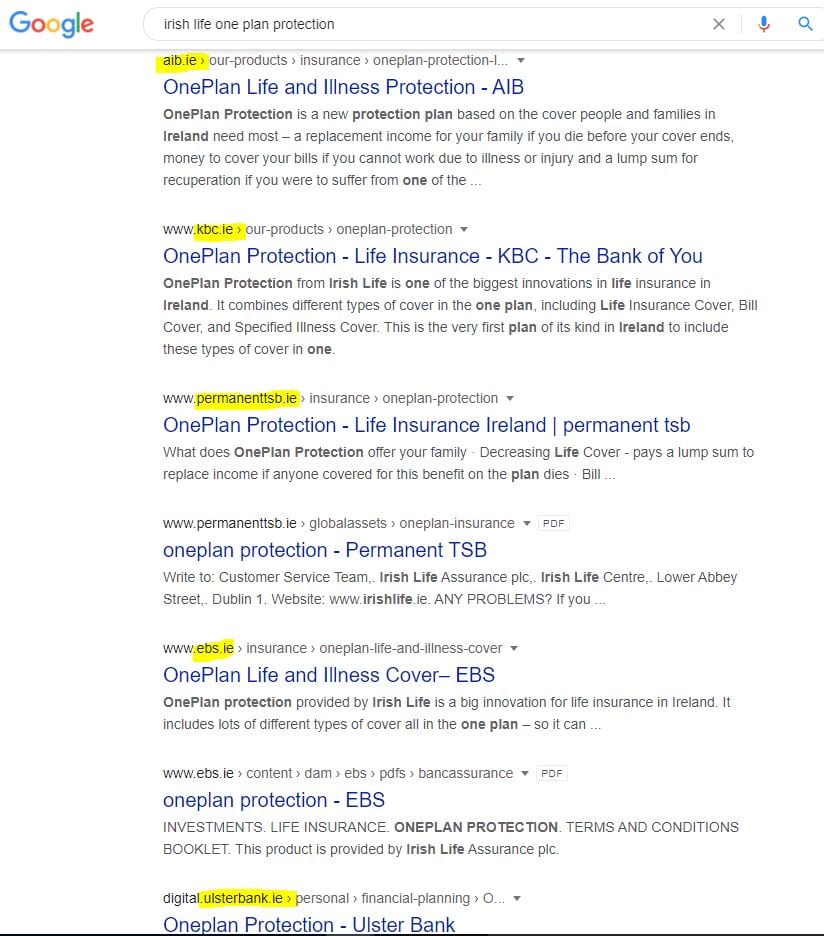 It's a rogues gallery of all the banks in Ireland (bar Bank of Ireland which is tied to New Ireland/Bank of Ireland Life so can only sell their products)
So chances are, if you're getting a mortgage in Ireland, you're going to have to sit through the talk.
Before you do, let's review the One Life plan from Irish Life.
What's good about the Irish Life One Plan?
Ah look, I may have laid it on a bit heavy there.
The Irish Life One Plan has one thing going for it:
Convenience
If you couldn't give one shite about getting advice on all the products in the market, don't want the best cover to protect you and your family, and instead would love to have one single payment to cover all your insurances then you might as well stop reading.
You have totally zinged with Irish Life.
Go, run, get married and have lots of little Irish Life babies.
What's bad about the Irish Life One Plan?
Irish Life is the only insurer that bundles all the cover into one plan. 
This makes it harder to compare the One Life plan to other policies in the market (clever, eh).
Anyway, because no other provider bundles all the cover, it's impossible to compare like with like.
So if you show me your One Plan quote and ask for a better quote, that's impossible; there is no comparable plan on the market.
WAKE UP, OTHER PROVIDERS, THERE IS AN OPPORTUNITY HERE FOR YOU!
They never listen.
OK, so not being able to exactly compare like with like is a pain but it doesn't make it an evil plan.
But this might:
1. The bank owns your policy.
If you assign the policy to your bank – an unavoidable step if you want the mortgage moolah- the bank becomes the owner of your policy and all the benefits attached to it.
Yep, you pay the premiums, but the bank will receive the proceeds of any payout, as you can see in the Terms and Conditions (if you look closely, but who does that right?)
Here's the relevant section: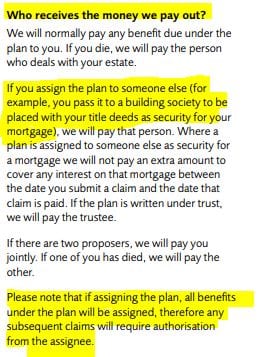 I don't know about you, but I certainly don't want my bank getting first dibs on a policy that contains my mortgage protection, life insurance, serious illness coverage and income protection.
The mortgage protection part is grand; as I said, you can't avoid your bank getting the payout on this but to freely give the rest over?
You've got to be kidding me.
Let's travel into the future:
You suffer a serious illness (don't worry, you make a full recovery) and need the serious illness payout to pay for life-saving surgery. 
But you have assigned your policy, including the serious illness cover to the bank?
Well, in that case, the serious illness cheque would go to the bank to pay off your mortgage. You wouldn't have any say because, legally, the bank is the beneficial owner of your policy.
That's why we recommend you buy basic death only mortgage protection cover to satisfy the bank.
Keep life insurance, serious illness cover and income protection on separate policies so the bank cannot get their grubby hands on them.
2. Bill pay ≠ Income Protection.
Bill pay is a type of protection available on the One Plan.
I guess during The Talk; it's sold as income protection because people frequently tell me they have income protection on their One Plan.
Let's look at the main difference:
Income Protection is a type of insurance that pays you a replacement income if you can't work. It will continue to pay out until you get back to work or your policy ends (usually age 65).

On the other hand, Bill pay will generally only payout for 2 or 5 years depending on the term you choose.
The average income protection claim lasts for seven years!
The maximum payout available on bill pay is €2000 per month, so if you're a higher earner, you will experience a significant drop in income. You can insure up to €21,875 per month with proper income protection for all you Zuckerbergs out there.
Finally, and most importantly, you can get full tax relief on income protection premiums which will reduce the cost by 40% if you're a higher taxpayer.
You don't get tax relief on Bill Pay.
3. You don't get a choice of the best policies
This here is the biggie, so I'll shout it.
NO SINGLE LIFE INSURANCE PROVIDER IS THE BEST AT EVERYTHING
So, if you want the best cover, you should buy from different providers.
All else being equal, no health issues, etc., we recommend:
Income Protection from Aviva | How to compare income protection providers
Life Insurance from Zurich Life | How to compare life insurance providers
Mortgage Protection from Royal London | How to compare mortgage protection providers
Serious Illness Cover from Royal London | How to compare serious illness providers
Suppose you spread your cover across multiple insurers. In that case, you also get the "value-added" stuff they offer like Best Doctors and Family Care from Aviva, and Helping Hand from Royal London.
But if you just buy the One Plan, you're missing out on a lot.
Further reading from the Irish Times: Alternative home loan protection options could save you cash
Over to you…
So, to recap:
If you don't care about choice and love convenience – fire ahead with your bank.
Everyone else, speak to a life insurance specialist who can advise you on all of the insurers.
If you don't have know one, I'd love to help.
Complete this questionnaire, and I'll be back over email with a no-obligation recommendation.
Chat soon.
Nick