? Are you wondering how a health issue may affect your chances of cover but don't have the time or inclination to read this blog?
That's ok, we're all busy people. Just complete this medical questionnaire and I'll run it past my panel of underwriters anonymously and get back to you over email
Everyone else – onwards!
—
It's been drilled into your head since you were a kid.
Grow up.
Go to college.
Graduate with a good degree.
Get a job and, eventually, a house of your own. (Probably after moving home with your folks and living on ham sandwiches so you can save the deposit.)
Or, to quote Renton in Trainspotting: "Choose life. Choose a job. Choose a career. Choose a family."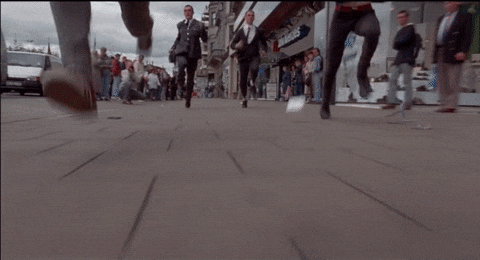 And okay, so he may say all of this while he and Spud are running from the cops and yes, the second half of his speech does take a turn towards misery and addiction – but the first half holds up.
But what happens if something makes you hit the brakes, and you're not quite sure what's facing you?
What if you're in the mortgage process and it's all looking great – until you read the health questions and realise "shit, I never knew that would be an issue".
Don't worry, it happens all the time.
But will the insurers turn you down?
And if they do, can you get a mortgage?
What is Mortgage Protection?
So basically, Mortgage Protection Insurance clears your mortgage if you pass away before you've paid off your loan.
For any residential mortgage, you're legally obliged to get Mortgage Protection, so there's no way around it. The cost of it will depend on the size of your mortgage, your health, your age, and whether you smoke.
If you have an illness, 'your health' is the worry.
Many people make the mistake of getting Mortgage Protection with their bank because it seems like the obvious thing to do.
Sure, it's easier, because it wraps everything up in a neat little bow. You don't have to shop around and it gets it sorted.
That's not to say it's the best move though.
For one, it's a bank and, as we all know, banks are prone to shenanigans. And two, you can probably get a better deal with a broker.
Ultimately, you'll get the best deal by shopping around and that's exactly what a sound broker, like me, will do for you.
Mortgage Protection if you have a health condition
Look, having a health condition sucks. It just does. But it doesn't – or shouldn't – affect your chance of getting a mortgage.
In some very extreme cases, the insurers will think the chances of you having to make a claim are too high and they'll say no, but that's rare.
Or they may postpone offering you cover, which isn't spectacular – but it's not the end of the world as the underwriters are just waiting to see how you'll respond to treatment.
The insurers underwrite applications on a case-by-case basis, but for now I'll say this: the majority of people should have no problem getting Mortgage Protection.
Getting Mortgage Protection with a health issue can take time so it can be a matter of urgency. If you're slap-bang in the middle of the property purchasing process, get on this now. If you've got an offer in on a property and you don't have Mortgage Protection sorted, pick up the phone or fill in a quote form right now. Seriously. Scroll down to the end of this blog and do it now.
In straightforward cases, you can get Mortgage Protection in less than a day. My process goes like this:
You fill in your application form.
I'll get in touch with the insurer with the fastest turnaround time.
I'll email you the documents to sign digitally and you'll send them back to me.
I'll submit the docs to the insurer.
If you have no health issues, your policy will be issued pretty much immediately.
Unfortunately, it's not that straight-forward if you have a health issue. Instead, you'll have to fill in a medical questionnaire for a minor illness, or if it's more serious, the insurer will need a doctor's report – which can add mileage onto the process. Some GPs are quick to send back the reports but most are slower than a Tuesday after a long weekend.
The medical questionnaire asks for details on your illness, when you were diagnosed, symptoms, treatments – that kind of thing.
Once that's all said and done, you should be able to get Mortgage Protection – and you can seal the deal on that dream house.
And now for some final pro tips:
You don't need Life Insurance if you're getting a mortgage; that's what Mortgage Protection is for. Life insurance is more profitable for the bank so don't be surprised if they push it.
Mortgage Protection isn't mandatory for an investment mortgage.
If you're not married, get two single life policies where you pay your other half's premium and vice-versa. It reduces any potential inheritance tax liability 😉
DO NOT GET Serious Illness Cover with your Mortgage Protection. Banks get any pay-out on Serious Illness if it's on your Mortgage Protection policy. Keep these policies separate.
And that's why independent insurance advice is so invaluable!
CHOOSE LIFE LION.
Over to you…
Got any questions on mortgage life insurance but can't find the answer in our FAQs?
You can fill in this short form and I'll be right back or give me a call on 057 93 20836.