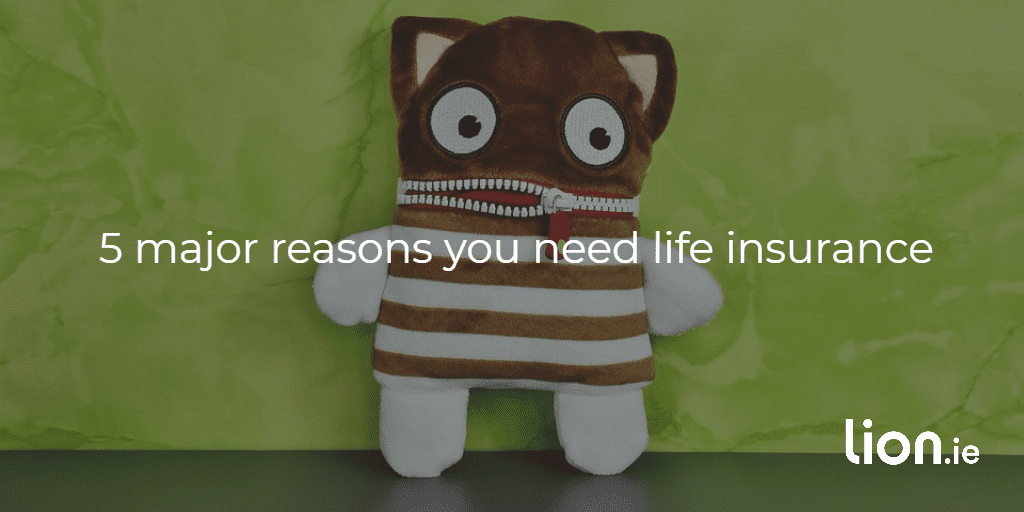 I guess you've stumbled upon this page because you're scratching your head wondering whether you need life insurance.
Why should YOU give money to a life insurance provider?
What's in it for you?
So let me make it simple for you:
If anyone depends on you financially, you need life insurance.
If you owe money, you need life insurance
If you live in a rented property, you need life insurance
If you have a job, you need life insurance
If none of these apply, I've got a few more reasons at the bottom of the page….feel free to scroll down
Why is life insurance so important?
Because you and your family are fecked without it.
1. Life insurance is a no-brainer if you have a family
Without it, they would STARVE.
Ok, maybe not starve, but their lifestyle would change unrecognisably if you weren't around to bring home the bacon.
You see, if YOU do something stupid like DIE, they would have to survive without your income.
"No mon, no fun" as the fella says.
But your family will avoid the breadline if you buy life insurance.
It only costs a few quid yet it's the best thing you could ever buy.
And it will give you a warm and fuzzy feeling inside knowing  they'll be ok when you shuffle off this mortal coil.
2. Life insurance will pay off your debts…on your death
When you die, any debts you have must be repaid from your estate before your family will receive anything. This is the case even if you have made a will.
Life insurance or mortgage protection will clear those debts making things a lot easier for your family.
3. If you're renting, you still need cover
"I don't have a mortgage" is a common excuse for not having life insurance.
But, how is your family going to pay the rent if the worst happens?
Can your partner afford to rent your lovely 4 bed detached on their own or will they have to move to the wrong side of the tracks?
Life insurance will leave a tax free lump sum of money so they can buy their own home or at least pay the rent.
4. Got a job – yep, you need cover too
I've seen you…ticking them off one by one
no kids, no mortgage, live at home…haha no need for cover
But what if you were unable to work long term?
Could you comfortably live on €188 per week (current State illness benefit)? I don't mean surviving, eating beans and meat from a can…but actually living….like you do now.
Income protection pays you 75% of your current income so you can continue living the rock and roll lifestyle you're used to.
Without it, your life will be pretty grim on €188 per week.
5. Fuck off money
I know, a swear word, please don't tell my mother. 🙏
A client told me about this.
In his country, they try to save one or two years earnings.
They call this F.U Money as it allows them to take a year off work…to do what they like.
Basically, they can say F.U to The Man.
Serious illness cover is a bit like that. If you contract a specific illness, it will pay you a tax free lump sum so you can eff off for a year.
Bring the kids on the holiday of a lifetime, buy a Ferrari…or do something eminently more sensible like paying for the best treatment overseas.
Other reasons for life insurance
You can stop scrolling now.
Funerals are expensive.
Even a basic one costs €5000…if you have a proper knees up, it'll cost even more. You don't want to burden your kids with the cost of your burial so take out a small whole of life policy instead.
Protect your business:
The loss of a key person in your business could have a severe impact. The business will suffer, sales and profits will fall and the remaining staff will have to work harder.
Keyperson insurance pays out a lump sum on the death of the insured key person. The proceeds can be used to help replace lost profit or hire a replacement.
If you own a business, what happens to your stake if you die?
Does your company have enough cash to buy your share from your family?
If not you should consider co-director insurance. If you die, this policy can provide a lump sum to the remaining business owners so they can buy your stake in the business.
Why is life insurance important?
Look, the main reason life insurance is important is PEACE OF MIND.
You can sleep easy knowing what ever life throws at you, you and your loved ones will be ok financially.
In short, you're paying the insurer for a good nights kip.
If you've decided that you do need life insurance but haven't a clue where to start, I'd love to help you.
Tell me a little bit more about yourself and we can get cracking.
Nick McGowan
lion.ie | making life insurance easier